(Some readers may find the last picture offensive. But please read to the end.)
I turned the outside faucet on a couple of nights ago to water some drooping potted plants and  noticed I had a visitor resting on the top of the spigot.  The area of his seat is about the size of a half dollar coin (remember those?)
I was fascinated at the delicate wee frog–looking at me, not in the least afraid of the hand that had turned the red knob. I watched him (or her–how do you know the gender of a tiny frog), and he watched me. (click to see him a  bit larger.)
Tom came to see who I was talking with.  I thought it was an infant frog, but Tom informed me this was a mature tree frog. Google has added to my knowledge of these tiny amphibians.   There are over 800 species of tree frogs world wide.  The largest ones in the United States are between 1.5 inch to 5 inches.  The tiniest ones are less than one inch long(or 2.5 centimeters ).  And they can live five to nine years!!
What is interesting is that the night previous I had seen another very small frog on the outside glass deck door. He looked a bit eerie, outside looking in–plastered on the glass.
Just minutes earlier I had buried my face in a pillow as a news segment concerning Planned Parenthood showed tiny baby parts in a bowl–feet, legs, hands–sort of transparent and as thin skinned as this frog.  I had screamed.  I did not want to look.  Now, this frog on my glass door reminded me of the scene I had just witnessed.
Except the bowl was bloody.
I tried to "un-see" that bowl of pieces of flesh on the TV screen.
I sat on the floor, snapping multiple pictures of this frog– watching him swallow, blinking beady dark eyes.    Something was happening to me, and I cried as the frog moved a toe.
It was the following night–the very next night, after photographing the frog on the window, that I met the little frog on the water spigot. I was in tune with frogs by now.  Almost audible, soft and gentle, the little creature said, "I am FULLY frog."  The message was so clear; this tiny species–a tiny, living breathing creature, perfectly formed as he is–is FULLY frog.
The issue is not what Planned Parenthood does with infant body parts; it is not even  about funding such an agency.  The issue is that we must discuss such a controversy at all.
I read that abortion is a complicated issue; it is not complicated at all. It is about opinions, preferences, consequences, opinions, disobedience, a quick answer to an undesired outcome.  (I do know there are life and death situations that must be considered, yes.)   If you can–please go to clinicquotes.com/abortionpictures. I did not want to give you an easy click-on.  You will need to find it. If you want to.
Watch until you cry. Look until you sob. Weep until you are spent.
Then ask what can one person do? click for count this minute/second  — there have been 1, 673 abortions in the United States since I began to write–oh no, that has just changed.  Three thousand fully flesh infants are aborted every day in the US.  The count grows each second.
Do I care?
"He chose me, actually picked me out for Himself as His own–in Christ —BEFORE the foundation of the world; that I should be holy, consecrated and set apart for Him, blameless in His sight. . ." Ephesians 1:4 Amplified Bible
"The Lord said to Jeremiah, BEFORE I formed you in the womb I knew you and approved of you as my chosen instrument, and BEFORE you were born, I separated and set you apart. . ." Jeremiah 1: 5 Amplified Bible
"Your eyes saw my unformed substance, and in your book all the days of my life were written, BEFORE ever they took shape, when as yet there was none of them." Psalm 139: 16 Amplified Bible
"Can a woman forget her nursing child and not have compassion on the son (daughter) of her womb? Yes, she may forget, but I will not forget you.  Behold, I have indelibly imprinted (tattooed) a picture of you on the palm of each of my hands. . ." Isaiah 49: 15-16 Amplified Bible
FULLY FROG
FULLY FLESH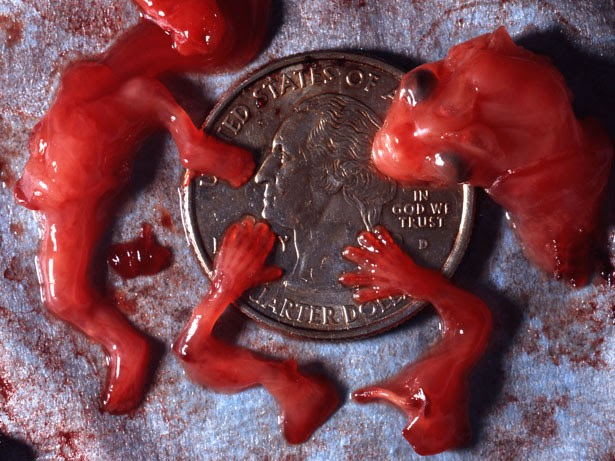 The one feature that unites each individual tree frog in the hundreds of species is that the last bone in their toes is shaped like a claw.  The one characteristic in every single fully flesh infant  is that he/she is imprinted with the fingerprint of God.